The companies that decide to modernize their warehouse, start with the most important part - the digitalization and digital transformation of the labeling or label printing system. Standardized and uniform labels increase supply chain agility, reduce errors, save a lot of time, and strengthen a company's competitiveness. That's why label printing should not be just an alternative that a company is still considering, but a necessity and the only right decision that lifts the entire business to a higher level.
First, let's take a look at the example of company X, which before printing labels with Tom PIT.connected, had printed labels from three systems of different providers. One of the drawbacks of this method of printing is that labels are not uniform and standardized. The possibilities of errors are high during the printing and sorting of labels, and warehouse workers can easily get caught in the trap of time-consuming and unclear work. With the help of the Tom PIT.connected platform, we can get rid of such shortcomings because we can connect to all existing label printing systems and standardize the entire label printing system. In this way, the company gets rid of overpriced licenses from different providers and, most importantly, speeds up and simplifies the label printing process with a single system.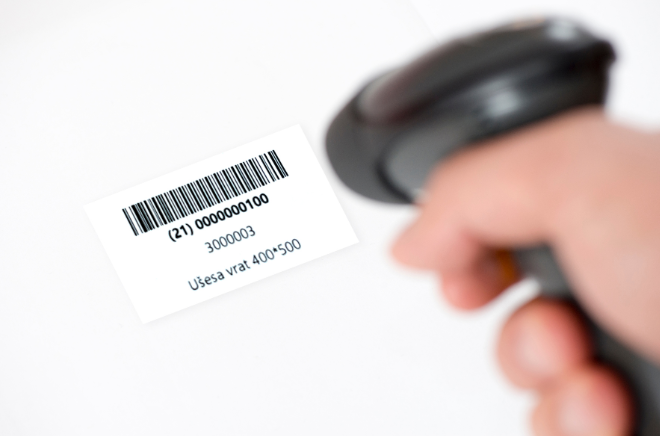 Image 1: A label with a barcode must contain certain specifications that the reader reads. It usually contains information about production orders, product IDs, quantities or weights of products, date of manufacture, and a unique code through which all this information is identified in the Tom PIT.connected system.
Why is it important for a warehouse to have a standardized label system?
One of the main advantages of label printing is that labels contain a barcode through which we can identify products, semi-finished products, raw materials, materials, machines, spare parts, and similar products in the warehouse. Additionally, the label system can also be used to manage inventory and synchronize stock levels. In the production or warehouse of every company, inventories are conducted (several times) annually, where employees use labels and readers to record how much of something is in stock. In this way, they check if the physical stock matches the actual stock level in the system. If the company has implemented a digitized label system, the mentioned data is available much faster than if inventory management is done manually, without a label system.
In addition to the already described advantages, we can also use the label system to mark the movements of products, intermediate products, machines, and materials from one warehouse to another. The warehouse worker only needs to scan a particular label with a reader, and the information is instantly available in the Tom PIT.connected system.
The essential benefits of label printing with Tom PIT.connected are:
Greater flexibility in designing labels, which is reflected in the possibility of rapid label design and possible changes
Lower costs of the warehouse system and the entire business because label printing is done uniformly and centrally
Saving a lot of time, as we get rid of problems with connections of multiple systems other providers offer
Independence from numerous providers who demand annual, high-priced licenses from you
Lower possibility of errors in inventory management
This post has no related content